Shawn Jones Trio
April 22 @ 2:00 pm

-

5:00 pm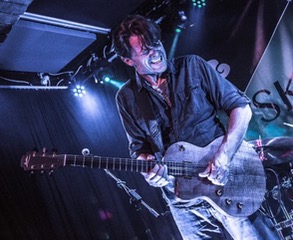 $10 cover at the door
Shawn Jones is the epitome of American Blues/Roots/Rock music. He has proven over time that he has an international appeal. Shawn is true to form of his influences, spanning from all the greats in Rock, Rhythm & Blues, Jazz & Country. His father raised him on Hank Williams, and he grew up in the heartland of Southern California, where he learned from experience how to play and sing the blues.
With five studio albums and one live album under his belt, Shawn's skills as a seasoned songwriter, guitarist, and vocalist have put him on the same bill with the likes of BB King, Buddy Guy, Joe Bonamassa, Bonnie Raitt, Robert Cray, Jimmie Vaughan, Willie Nelson, Leon Russell, Eric Johnson, Robben Ford, Derek Trucks, Little Feat, Taj Mahal, John Mayall, Coco Montoya, Johnny Winter, Jim Lauderdale, John Haitt, David Lindley, and many others. Waylon Jennings was also so impressed with Shawn's live performance that he took Jones under his wing, offering him a management deal and the grand opportunity to play on his 1996 release "Right For The Time." Shawn was also Waylon's lead guitarist on Lollapalooza with Metallica, Ramones, & SoundGarden, and Willie's 4th of July Picnic. Shawn currently tours with country music multi-platinum artist, Deana Carter as her lead guitarist. Jones also has endorsements with George Lowden Guitars, Asher Guitars, Handyman Guitars, GHS Strings, LR Baggs, G7th Capo company, Rocktron, and others… Previously, Shawn's song "Invincible Me" was featured in the 100th episode of "Dawson's Creek" on the Fox Network. Jones and his band made a cameo appearance in the Fine Line Pictures release, "Tumbleweeds", starring Golden Globe winning actress, Janet McTeer. Two of his songs, "Long Way Down" and "Lightening Strike Me Down" are featured in the movie. The single "Long Way Down" was also included on the RCA/Victor soundtrack album. Other artists on the album include: Johnny Cash, Lyle Lovett, Buck Owens, Emmylou Harris and Lucinda Williams. Shawn's song "Lightening Strike Me Down" was selected for the Hollywood Pictures film, "Mystery Alaska" starring Russell Crowe.
Shawn Jones' ability to combine undeniable guitar playing, singing, writing, and recording, coupled with heartfelt emotion, has earned him the slot as one of the most compelling new artists on today's roots music scene.